Junior Gliding with the AJGC
The Australian Junior Gliding Club has been active, flying where possible, and planning for hopefully a big summer.  Check out below for some updates and exciting events coming your way.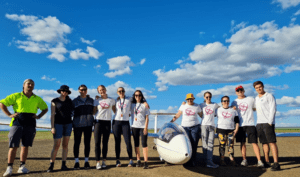 Local Series
The AJGC holds "Local Series" events in each region, aimed at increasing junior participation at club level. We recently ran a 3-day Local Series at Darling Downs Soaring Club. The event had a great turn out of 12 keen pilots in attendance, all keen for some cross-country flying.
The Local Series is about going flying, meeting others, and having a laugh. Come and check it out!
 JoeyGlide 2020/21
The Australian Junior Gliding Club is proceeding in the hope of running a COVID-normal JoeyGlide this coming season, with full COVID-safe planning and protocols.
Site: Leeton, NSW
Dates: 7th-15th January 2021
Entries and info: https://www.joeyglide.juniorsoaring.org 
Watch this space!
Junior Instructor training
Instead of running a centralised course, the AJGC is helping to connect eligible juniors with instructor training opportunities within their region. Funding is available. Future junior instructors get in touch if you haven't already: admin@juniorsoaring.org
NSW State Comps – junior discount
NSW State Comps are being held on the 14th-21st November at Lake Keepit. The organisers have heavily discounted the entry fee for Juniors. If you are interested get in contact with organiser Casey Lewis cjlbooklksc@gmail.com.
Website upgrades
The AJGC website has also recently had a makeover and is filled with lots of new, useful information. If a junior is looking for a club, compare them all in the one place in the 'Where to Fly' section. Check it out at https://www.juniorsoaring.org.
The AJGC supports and facilitates young Australians in realising their potential and maximising their enjoyment in gliding. If you are a junior, or your club has juniors, get in touch for more information on how to participate!