Improving Club Participation with Beverly Soaring Society
Beverley Soaring Society (BSS) is a club of around 142 members.  They have a large group of enthusiastic and adventurous glider pilots who do quite a lot of cross-country flying and are often blessed with some pretty good gliding weather with thermals up to 16,000 feet on occasion, however a lot more blue days than Cu days!
As usual there is a healthy level of competition between pilots, but the club is also a very supportive group that has a culture of challenging each other, having a lot of fun, and working hard to keep things safe for everyone through vigilance and professional attitude to flying.
Beverley's "Concours d'Pigbucket" (CDPB) competition has evolved from pretty simple beginnings 5 years ago, and recently increased the focus on our newer pilots by creating a "Piglet Class" with small tasks where all of the turn points are within easy gliding range of Beverley. This enables the pre-GPC pilots to have a bit of fun and compete with each other while learning how to do all the things needed to fly a cross-country task – flight planning, personal preparation, navigation, and also how to use their electronic devices to upload flight files to OLC and to analyse flights.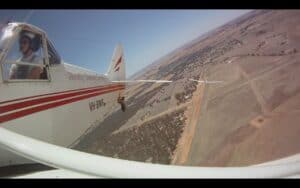 The CDPB competition is basically a simple tally of 1 point per 50 km achieved on the OLC website, with bonus points for personal best speed/distance, and also less-permanent bonus points for best height/speed etc. that can change hands throughout the season when someone sets the bar a bit higher – which can make things pretty interesting sometimes! There are a few restrictions, such as "Astir-like" gliders only, although this has been stretched quite a bit to accommodate people who want to be included, and a limit of two flights scored in any seven days so that the "occasional" flyers are not too disadvantaged by the people who fly all the competitions and cross-country flying weeks that we have at Beverley regularly over summer. Our committee also donates a $50 flying account credit every month for the "most meritorious" flight, which provides some additional incentive.
It started as a way to create some competition and some banter for the pilots flying Astirs/Jantars etc.  Club members were already logging most of their cross-country flights on the OLC website already, so once it was worked out how scoring would work it was just a case of keeping track of OLC, interpreting the scores and sending a weekly email detailing any movement up/down the ladder, any point-stealing, and adding in some appropriate banter.
Benefits so far?  BSS has seen an upward trend in OLC points, seeing them hit number two club worldwide last season, punching above their weight over in the West!   They have also been encouraged to see quite a the newly-soloed pilots get onboard with the Piglet Class this season just gone, so next season should see quite a bit of competition!
What do you think will happen in the future?  More of the same! Facilitating/encouraging post-solo soaring challenges is a critical part of a glider pilot's development.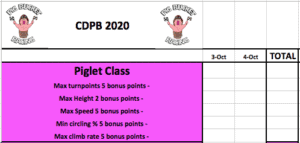 President Geoff Overheu happens to be a talented sculptor and has cast some fantastic 'flying pig" trophies, so now it's all getting quite serious compared to the initial "Pigbucket" trophy which was literally a shiny metal bucket with plastic pig ears rivetted to the sides!
And what do the members think?
"The Claytons task and Piglet Comp is a great way to introduce and practice XC skills before you are allowed to go XC for real.  It gave me a goal to aim for both for an individual  flight, and for the season as a whole. It's a fun comp but for me flying with a goal added both interest to the process and I am sure it improved my flying, which will stand me in good stead for when I get over the fence."   – John Hutchison, BSS member Solo 2020.
"The post solo CDPB competition was instigated by two of our members initially as just a fun comp for some of the older gliders and has grown into an integral part of our overall operations. It fits seamlessly into our training programme so that now students that have gone solo can sign onto the post solo comp, work their way through to GPC and onto whichever style of gliding/ flying that they may wish to undertake. The CDPB crew make the comp a lot of fun but with a serious element emphasising safety and improvement of the competitors flying skills. We have made it part of our annual prize presentations each year with each of the three categories receiving a trophy." – Geoff Overheu,  President, Beverley Soaring Society.
Beverley have created a healthy and safe competition that appeals to the weekend warriors, juniors and less experienced or time-poor pilots. This can be as simple as toting up the OLC scores each week or it could be the fastest/longest climb. Almost any safe activity that can be measured and scored could qualify.   And if you would like some ideas the team at Beverley have the following advice:
Provide Enjoyment to participants
Try as much as possible to lower the barriers to entry, so even the newest of pilots can participate. As an example, we will still score pre-GPC pilots who fly Cross Country in a twin with more experienced pilots (half points).
Entertainment to spectators
Those days when you're stuck to the desk and your buddies are out enjoying the West Coast Trough or finding crafty routes around airspace boundaries – that's when OGN and Skylines become super-handy. The audience is small but quite enthusiastic! It does make you feel like part of the action when you can message a friend who's just got back from their first 300 (or their 30th) and say well done.
What will you and your club-mates dream up?