When Warwick Gliding Club first had contact with Amanda Vanderwal as part of S2F Amanda suggested broadening the membership with non-flying members and developing a social scene. At the time our committee could not envisage what would attract non-flying persons to the club. After all we are all here to go gliding!.
However, as we got to grips with reorganization of the club environment a number of things became clear. Firstly, as with any gliding club, we are losing our mature members as they exit active gliding as pilot in command. These members are an invaluable store of experience and knowledge that clubs should make all efforts to retain.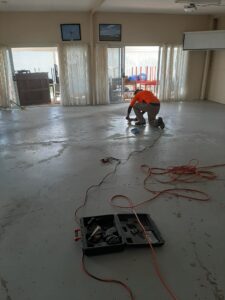 So, we offered an affordable associate membership and these members help with Form 2's of the club gliders and other tasks around the club. As they stay club members they take mutual flights with other club members so their contribution is regularly acknowledged. The GFA also offers an affordable non-flying membership rate so these members can be retained under the GFA umbrella.
Other clubs may also want to consider contacting other organizations in the vicinity of the club such as men's shed's to ask for assistance with renovation works. We have been lucky to receive council grants for renovations and the renovations we undertook spurred members to pitch in with further clubhouse tidy-up and renovations and it encouraged donations of furniture from non-flying members.
We have spent more money in renovations this year than in the last 20 years! With improved facilities, it also makes it an attractive environment for both flying and non-flying members. Such forms of investment have multiple paybacks.
The social side of a gliding club has been an integral part of how clubs were run in the past and Warwick GC was no exception however these days of time-poor members who just come out to fly it can be sadly neglected or just focused on gliding activities such as comps.
We have had associate members, so friends or family members who help organize and support various non-gliding social activities such as visiting local wineries and organizing music concerts.
The following is some feedback we recently received from a non-flying associate member.
 The past few months since joining Warwick GC have been wonderful and even though I am still trying to find my wings, so to speak, the people and the club, in general, has had such a positive influence on my life and my son's life.  We enjoy every moment we spend up at the club.  
It is important that the social activities are coordinated and this can easily be undertaken by a non-flying member and they are likely to have ideas that a flying-focused club member may not have ever envisaged.
With membership be it flying or non-flying it is important to aim to ensure that we can come to the club with a positive attitude. Gliding Clubs are at their heart a volunteer organization so it is important when seeing the volunteer effort that proper regard is given to the volunteer commitment. Regular updates of events and activities and shining a light on what the non-flying members are contributing to is vitally important.
If you had asked our committee 18 months ago that we would have a marked increase in non-flying members we would not have believed it. It is a worthwhile investment to encourage non-flying activities as much as possible and build up the non-flying associate membership as a result.